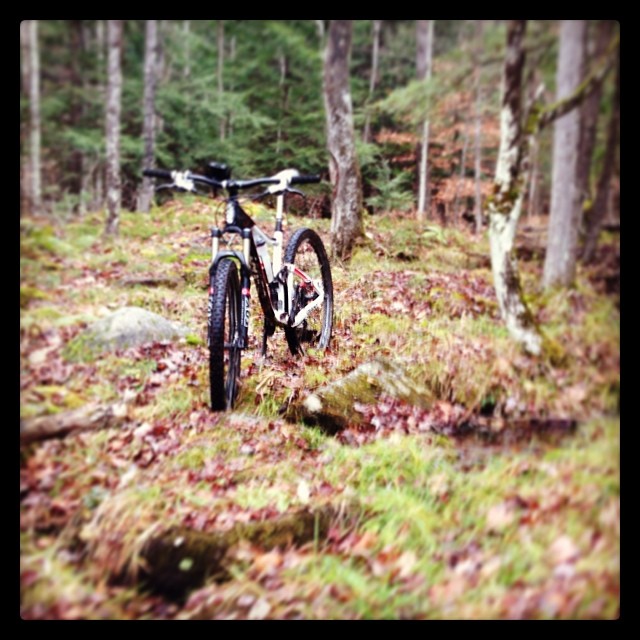 It's almost the middle of November and I, somewhat reluctantly, went for a Mountain Bike ride. Reluctant because when I looked at the pile of clothes I was wearing and then at the pile of clothes I would be wearing, a bit of apathy and malaise tried to take over and convince me otherwise. This was at the office, where I keep the biking gear. But I peeled off the Jerry clothes, put on the not-so-Jerry clothes (spandex and goretex and probably some other -ex) to prep for an early Winter ride.
This year I bought *stuff*. I bought a wind-proof biking jacket with pockets in the back. Does it have pockets to hold your car key? No. But you can stuff a water bottle back there I guess. I bought wind-proof bib pants that should keep me warmer, although I'm not sure how far below freezing they'll work since I have t-shirts that are thicker. I'm contemplating warmer gloves, something for my head, and there's a need to keep the toes a bit toastier as well. I'm new to this activity specific clothing thing and question each penny spent.
Friday I went for a first ride in the snow. Huge flakes of snow wafting from the heavens as I pedaled up a side-road to the Mt. Biking trails. Hadn't really thought about what happens when snow hits biking glasses, but there it was, lenses covered in melted snow and blurry vision. A quick wipe with gloves seemed to do the trick without streaking or smearing but I had to do it a lot. Once on the trail and in the woods the trees kept most of the snowfall out, it was eerily still, darker, with little white patches of snow in the places where trees were thinner. Break out into an opening and a thin white spray of snow covered everything, except a jagged line on the trail. Someone else was out biking too, a little or a long ways up ahead.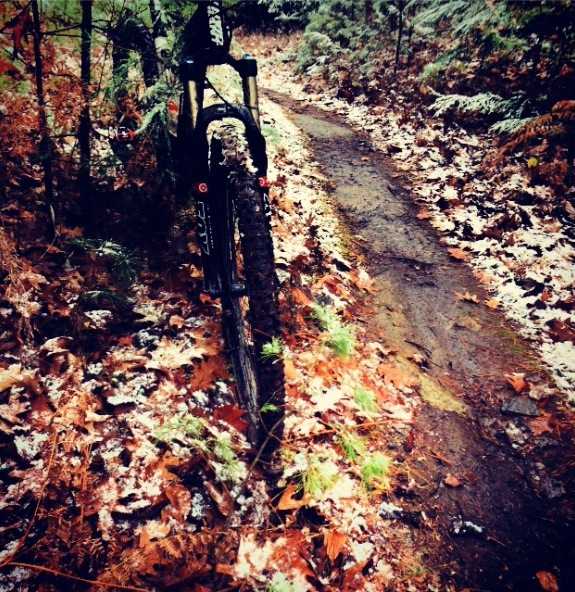 But back to today's trail. The dog came along this time and he was eager for the outing. An older dog was out for a leash-hike with his master and Raz really wanted to see them. Once we passed them, they went completely out of mind, his nose to the trail in pursuit of other scents and other adventures. It's slippery this time of year, but with careful steering and enough momentum you can usually work a route through the gnarliest of roots. We went up the West side trail, which has a really root-y start and then turns into a steady climb. Half way up we run into a group of hunters. Looks like a couple of dads with their teenage boys. Everyone says hi and lets me ride by, although the second dad gives me a grumpy look. Favorite hunting ground? Doesn't like seeing old guys in spandex? Bad day with the boys? I could speculate, but we are by them and pumping up the rocky hill, the look a half second's glance.
The trail is clean. No leaves, well defined. This time of year the trail gnomes come out with leaf blowers and who knows what else to clear many of the routes off. It's quite a difference once you break off from a main trail onto something no one really bikes, completely leaf covered with very little but old memories, maybe subtle scents, to guide you. But the main trail is clear and clean as if a rush of passing water cleared a channel through the woods. Later, after cresting the hill and approaching the loop back, we run across two people hiking. For all of Raz's gruff barking and feigned ferocity at home (he gets upset if a car slows too much at the nearby intersection) he seldom stops or takes note of people we meet. If it's a jogger or biker, someone that's in motion he might dance around them for a moment, but otherwise he is off in another world. The man is in his later 30's or early 40's and seems to be on a outing with his mother. No backpacks or water bottles, but when I pull to the side and wait for them to pass the mom stops to ask about the trail. I tell her that going right at the "Y" up ahead will head to Boston Lot lake, assuming that is their route. She asks about the other direction and I rattle off something like, "up to and along that ridge, then eventually down the hill to old pine tree cemetery road". She smiles and nods thanks and I add that there are many more "Y"s along that route.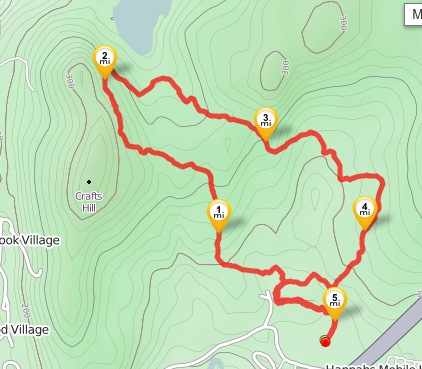 The dog and I continue along our way, taking one of the un-raked side trails. It's rocky, rough, and anyone else would be hard pressed to find a route through the jumble of rocks, downed trees and leaf buildup. A bit further along we break off the trail for something even less traveled ... perhaps it is just us and one or two other people who ever use it. It's a nice shortcut but has two or three sections where you need to carry the bike. One section is below an old beaver dam, the trail leading up to and past it are very nice, but then there's nothing, just a jumble of moss covered boulders and trickle of water. Was there ever a trail? Did it get washed out? Or is it just some nut like me, always lugging their bike to the other side?
By now there's a distinct sound of rain mixed with sleet. The funny looking clothing is keeping me warm in the sub-40 degree temperature. We're on the final part of the ride back, winding through some bumpy, root-y sections and then it's off to what I call the "dessert" section: a mostly rock-free looping trail that you can ride a bit faster, a bit crazier before popping out back at the trail head.
And that's it, the earlier apathy has been replaced by an energetic feeling of being alive again. Muscles are a little weary and a little exuberant. The dog is muddied and panting and probably the happiest he's been all week. At home Faith says my biking outfit looks silly. She's right. And yet it allowed me to get out and enjoy a cold November day on the bike, to feel a bit more alive, to get away from the computer.
Hmm, maybe I should get some nice warm gloves...