Water Rocket Video
Be sure to check out our latest Water Rocket article at The How Zone
I've been spending spare time tinkering with water rockets. First off, I came up with a design which I think obviates the need for a parachute (most cases). The main reason you want a parachute is that the weight you use for stability going up quickly turns into a liability on the way down.
Using a couple of one or two liter bottles I've created a stacked rocket where the top bottle gets a little water to provide stability. The top of this bottle is left open, but another partial top is slid over it. You get good, straight flight going up and at apogee the bottle turns over, dumps the water into the removable top, which detaches. The main rocket floats like a feather into a nearby tree and the cap plummets like a rock. Almost perfect!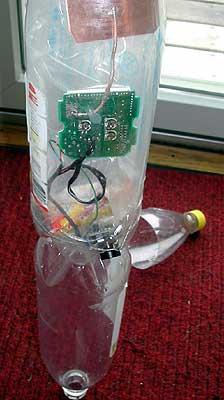 The other thing I've been working on is getting a wireless camera into a rocket. Remember all of those crazy X10 popup ads? Yeah, that's my fault. I bought a camera a few years ago and they used the sixty bucks or whatever to buy a million internet ads. Sorry about that.
Well, I finally put the camera to good use. After a severe dissection it was put into a 1 liter bottle, much like the old ship-in-a-bottle kits. A hole was cut for the lens to stick out and a little switch was mounted externally for applying power. I also confirmed that a 9 volt battery works in lieu of the 12 volts it prefers.
That's the good news. Unfortunately there's no way to ditch all of this weight when it reaches apogee. For now we'll hope for the best and rebuild the rest.
Here's a link to the Water Rocket Movie in case you don't see it in your browser below. If you've never seen a water rocket launch you might be surprised, heck I was surprised and I've launched a bunch of them. Be sure to step through the movie frame by frame after you watch it to see some of the views. With a parachute the time aloft would be longer.
By the way the sound is from the wireless camera's microphone. I know, it sounds like a real rocket. Here's the view from the rocket in case you can't view the movie: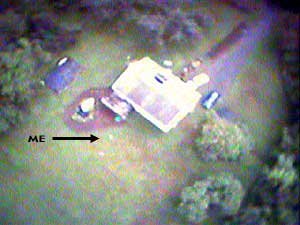 The first shot buried the tip of the rocket two inches in the ground and popped the little Amazon shipping airbag I had used to cushion and isolate the parts. I replaced that with a chunk of packing foam. Also turned off the house wireless phone since it caused camera interference. The second launch was a beautiful thing. Straight up, barely any spin, and then it turned ugly as the rocket slammed into the woods and self-destructed.
Here's the rocket after the last launch. The rocket is in great shape, but the electronics sort of pulled themselves apart. Hmm, gotta come up with a parachute. You can see that I've moved to a more modular system design. When you slam rockets two inches into the ground on a regular basis you need to use interchangeable parts.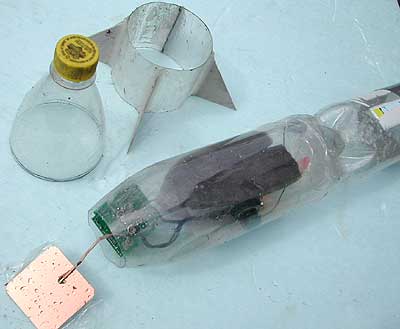 Ingredients for this project:
two one liter soda bottles
Shoe-goo & silicon sealant for rocket assembly
one x-10 wireless camera & base reciever
misc. wire, switch, tape, and packing material to asseble camera
Video camera with external video input (hooked to X10 reciever)
iMovie to import video (firewire) and create movie
Whadya think, would Zeke enjoy a twenty five thousand dollar jacuzzi?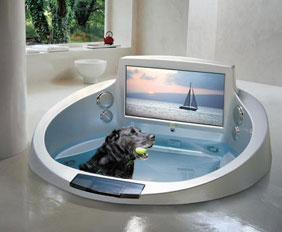 DVD System.
State-of-the art entertainment center, with a 43" high definition flat screen television.
Floating remote control.
Underwater lighting.
Side-by-side ergonomic loungers.
Energy-efficient, self-draining, double-insulated pump.
Patented Silent Air Induction system.
Slip-resistant bottom.
Built-in CD/AM/FM stereo with remote control.
Surround sound system.
Tru-Level self-leveling base system.
2 Directionally adjustable foot jets.
2 directionally adjustable body and side jets.
6 Fully adjustable PowerPro jets.
I'm just waiting for my filthy-rich eccentric period to start so I can buy one.