Whadya think, would Zeke enjoy a twenty five thousand dollar jacuzzi?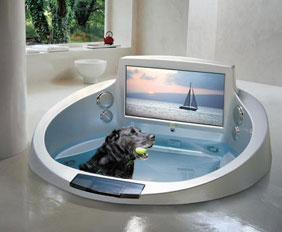 DVD System.
State-of-the art entertainment center, with a 43" high definition flat screen television.
Floating remote control.
Underwater lighting.
Side-by-side ergonomic loungers.
Energy-efficient, self-draining, double-insulated pump.
Patented Silent Air Induction system.
Slip-resistant bottom.
Built-in CD/AM/FM stereo with remote control.
Surround sound system.
Tru-Level self-leveling base system.
2 Directionally adjustable foot jets.
2 directionally adjustable body and side jets.
6 Fully adjustable PowerPro jets.
I'm just waiting for my filthy-rich eccentric period to start so I can buy one.